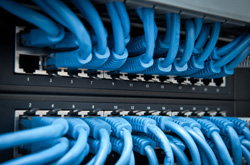 Fiber optic cable is a network cable made up of glass fibers that are covered with an insulated casing for protection and handling. These cables are used for high speed Internet or very high bandwidth network communications. The use of fiber optic cables is becoming more popular these days. They are even used in the medical-surgical field as light guides and imaging equipment.
Uses of Fiber Optic Cables
Telecommunications

Durable and flexible fiber optic cables are an excellent choice for telecommunication networks. These cables send signals efficiently no matter how far the distance is without losing much intensity. The transmission of information is complete with only a few repeaters. Fiber optic cables can accommodate a large quantity of varying signals at once using wavelength division multiplexing.

Medical

Fiber optic cables are used in the medical field as light guides and imaging tools. The use of fiber optic cables in lasers has also grown in popularity.

Industries

Fiber optic cables are also used for imaging in hard-to-reach areas. They are commonly utilized as sensory devices to detect temperature, pressure and other measurements. Wiring in automobiles also uses fiber optic cables.

Networking

Fiber optic cables are also used to connect servers and users in a large network setting. They boost the speed and accuracy of data transmission.

Broadcast and CATV

CATV and HDTV also require the use of fiber optic cables for wiring in order to accommodate video on-demand and other applications.

Government

The government uses fiber optic cables in hydrophones in SONAR and seismic devices. They are also used in submarines, aircraft and other machines and vehicles used for field networking.
Selecting Fiber Optic Cables
There are many factors to consider when choosing the right fiber optic cable. It is important that users know some fiber optic cable basics before purchasing them.
Environmental Requirements

Buyers should know the potential hazards that the cables will face. They should know if the cables will be exposed to chemicals or extreme temperatures.

Types of Fiber Optic Cables

Simplex and zip cords are commonly used in patch cord and backplane applications. Additionally, they can be utilized for desktop connections. These cables only have one fiber and are generally used indoors.
Breakout cables are comprised of many simplex cords joined together. They are ideally used in conduit runs, plenum and rise applications. However, these cables are more expensive than the other types.
Distribution cables are also comprised of several tight-buffered fibers that are joined together. They are smaller and used in dry and short conduit runs, plenum and riser applications.
Loose tube cables also contain several fibers that are held together inside a small plastic tube. They are usually buried directly into the ground. These cables require careful handling due to the thin buffer coating that is prone to damage.
Ribbon cable has the highest fiber count for a small-sized fiber optic cable.
Armored cable is usually used in areas where there are a lot of rodents. These cables have metal armor between the jackets to protect them from damage caused by rodents. However, it is important that the cables are grounded properly because they are conductive.
Aerial cable is used for outside installation on poles.

Types of Fiber Optics

Single-mode

Single-mode fiber cables offer a higher transmission rate. These cables contain a tiny core that measures about five to ten microns. These tiny cores have the capacity to eliminate distortion and produce the highest transmission speeds.

Multimode

Multimode fiber optic cables provide high bandwidth with high speeds over long distances. The cores are usually 50, 62.5 or 100 micrometers in diameter. The problem with multimode fiber optics is that long cable runs in multiple paths may lead to signal distortion. This can result in incomplete and unclear data transmission.

Cable Design

Water Protection

If used outdoors, fiber optic cables should be protected from water and moisture. They are built with a moisture and water-resistant jacket that is usually made with polyethylene and an additional blocking material made of gel. This method is quite messy because a gel remover is required. Fortunately, there are some cable suppliers that offer dry water blocking. They use a powder that can effectively absorb moisture in the same way as the ingredients used in disposable diapers.

Pulling Strength

Pulling strength may be less important when choosing the right fiber optic cable because most varieties can be laid in ditches or cable trays. However, certain cables may be needed for more than two kilometers of conduit. Lubricants may also be needed. Aramid fiber provides strength for most cables. This component is strong but cannot be stretched. This means pulling it will not damage the other components inside the cable.

Fire Code Ratings

Cables that need to be installed indoors should meet the required fire codes. All jackets should be fire resistant.
Advantages and Disadvantages of Fiber Optic Cables
The Advantages
Offers high bandwidth.
Accommodates increasing bandwidth easily.
Guaranteed resistance to electromagnetic interference.
Allows easy and fast cable damage detection.
Easy to install and maintain.
More resistant to electromagnetic noise like motors and radios.
Sends signals further without needing enhancers.
The Disadvantages
More expensive installation cost.
Special testing equipment like an Optical Time Demand Reflectometer is often required.
Prone to damage during installation and construction activities due to its size.
Future of Data Wiring
There are endless possibilities with the use of fiber optics. Today, there are already a number of applications that use this technology, and there are more to come. The future of data wiring holds the possibility that the information will soon travel at unimaginable speeds. Fiber optic cables will soon accommodate higher bandwidths than it does today. More opportunities will open for different industries to benefit from the use of fiber optic cables.
The Bottom Line
Knowing basic information about fiber optic cables makes choosing the right one for the project a lot easier. Professional installers give great advice, but having all of the information about this technology is always beneficial.