Copper Wiring 101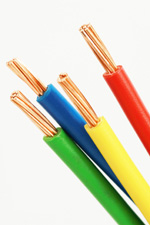 Copper Wiring has for a long time dominated electrical wiring in buildings for years. This is due to the fact that copper, comes only second to silver when it comes to exceptional electrical and heat conductivity. When intended for use for wiring, it typically goes through a refining process that brings it to almost 100% purity. Copper wire is still the most preferred choice for electrical wiring for both domestic and industrial buildings.
Considerations when selecting copper wire:
Brand / Type

The best way to know which brand to go for is to conduct a research, and find out where one can get high quality copper and copper wire. There are various sites online, where previous users have given their thoughts concerning various brands. The copper wire can be either bare or flat depending on one's preference. is also important to discuss the matter with one's electrician. Electrician's are best placed to help in choosing the best brand of copper wire because they use the material. (Most electricians prefer it over other materials).

Price

Copper wire is not expensive but the prices vary depending on size and brand. The price also depends on whether the wire is 100% copper or if it is combined with aluminum. The latter is usually cheaper. The amount one spends will greatly be determined by one's budget. However, price should not be the main factor. Electrical wiring is one of the most important parts of a building and the kind of material used no matter how much it costs, will go a long way in ensuring that the building stays safe from electrical accidents. It is always better to be safe than sorry.

Wiring/cable company

It is advisable to choose not only the best brand, but the best provider as well. This means that the company must have a reputable name and quality copper products, as well as reliable, efficient and customer friendly staff. There is always the possibility that after purchasing the wire, you will need some help and clarifications. You want to go for a company with the best customer service available. One can get information regarding the best copper and copper wire providers from friends, family or even neighbors, who have used copper wires from specific companies and compare notes.

Local Electrical and Building codes

There are various codes that govern what type of electrical wiring should be used, e.g. the recommended cable size. This will assist in choosing the most suitable size.
Advantages and disadvantages
Advantages
Best electricity conductor

As mentioned earlier, copper conducts electricity better than any other precious metal, second only to silver. A diameter of copper wire carries a lot of an adequate amount of power at any given time

Strong and flexible

Copper can be easily bent, pulled, stretched and or twisted, without breaking due to its toughness.

Easy and strong connections

The connection process is easy to understand and when done properly, the wiring will remain intact and strong always. It does not need special fitting instructions and lugs either. It can be easily soldered for long lasting connections, unlike other materials that require joints that are already soldered in order to function properly.

Adequate melting point

Copper's melting point Is high enough to withstand current surges and take overloads, however heavy. This means that connections will stay intact, therefore keeping the building safe. Other materials succumb to too much heat at the connection point, due to overloading, exposing buildings to danger and causing unwanted interruptions.

Easily Available

Copper can be found in different sizes, anywhere at reasonably affordable prices.

Resistant to corrosion

Corrosion is caused by various occurrences in the atmosphere including, moisture, pollution, humidity, etc. This can cause overheating, which in turn have a negative effect on connections. Copper, unlike other materials will not be affected by corrosion

Can be easily rewired

This is because the wire is small and will not take up a lot of space. Rewiring mostly happens during remodeling or renovations or expansion of wiring system (s) and if copper wire was initially used, it will mean less expense.

Affordable and economical

Although silver is a better electricity conductor, it is rather expensive compared to copper. Added to the fact that copper can be easily rewired and is durable, it is the most preferred as far as cost effectiveness is concerned.

Reliable and most preferred choice of most professional electricians

Copper does not disappoint when it comes to reliability and most electricians constantly choose it over other types of wiring materials. This is due to the material's high quality, ease of use and exemplary performance.
Disadvantages
Not good when combined with other materials

When copper is diluted or combined with other materials, such as brass or bronze, the electrical conductivity of copper is greatly reduced. When exposed to water, corrosion will occur for copper products and materials such as the wires, therefore, requiring that they be covered with protective materials such as alloys. These protective materials can affect the conductivity of copper as well.

Can be dangerous

When copper spoils or goes bad, it can cause serious damage. In order to avoid this,

When is copper wiring good to use?

Copper wiring is good to use during the initial electrical wiring process of a building. This way one is assured of an excellent and durable wiring system.
Recommendations on copper wiring
It is important to avoid diluting copper by combining it with other materials, which have very low electrical conductivity rates, unless one desires reduced conductivity. Until a better wiring material with higher conductivity is discovered, copper wiring will remain the most preferred choice. Of course, as long as all other factors such as resistance to corrosion, flexibility, strength etc. are considered as well. Copper wire can now be bought online. Various sites have different brands and sizes of copper wire complete with their prices to help consumers compare prices and quality before making a purchase.